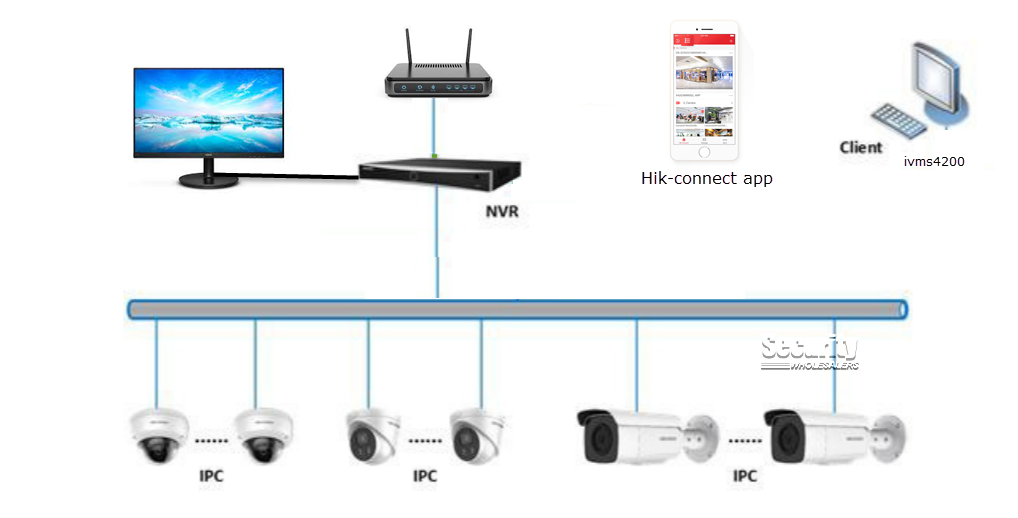 This FAQ deals with one of our most common questions.
"I've just bought a Hikvision IP kit from you – what do I do?"
What you need:
the Hikvision camera/s
The Hikvision NVR
Precrimped CAT5E / CAT6 Cables or an installer who supplies the cables (with RJ45 ends). (1 per camera and 1 from the NVR to the modem)
A monitor or TV (with VGA or HDMI connections) (you can buy a 22′ 1080p monitor from Officeworks for around 110.)
Steps:
Run the CAT6 cables to the locations you require (1 per camera). The cables should come back to the location where your NVR is located. Note the NVR makes a running fan noise so a cupboard / walk-in is ideal.
Connect & install the cameras to one end of the CATcable and connect the other end to the NVR. Please seal connections with electrical tape to protect against water ingress
Plug in the monitor via a VGA or HDMI cable to the NVR
Connect an ethernet cable from the NVR to the modem (if you wish to do remote viewing).
Turn on the NVR & Monitor – you should see a setup screen.
Ensure you write down the username / password you choose. Its a pain in the bum to reset.
After setup, you should see your cameras on the screen!
To set up remote viewing, https://www.securitywholesalers.com.au/faq-items/can-use-hik-connect-set-remote-viewing/ (this is a useful video https://www.youtube.com/watch?v=sNtB7Cjm7HY) If you get stuck at this step, please consult an IT professional as it could be your modem or other issue.
If you've bought an Acusense system – how to configure acusense here
Our other FAQ articles are good for troubleshooting https://www.securitywholesalers.com.au/faq-items/ or you can try Googling / Youtubing the problem.
If you still can't resolve your issue, please email us – support@securitywholesalers.com.au. Please be as detailed as possible regarding the issue.
USEFUL VIDEO FOR SETUP MORE DETAILED VIDEO FOR SETUP (for more complex arrangements)