This kit comprises of:
8 x HiLook 6MP IPC-T269-MU/SL All in One Camera with Blue / Red Strobe / Audio (ACDC)

Active Colour Deterrence 6MP high resolution camera
Alarms, notifications, any audio clips can be broadcasted by camera when event occurs. Users can use Mobile App to customize audio message easily.
Working with Intelligent human & vehicle classification technology to reduce FALSE alarm.
Strobe light alarm and Audio alarm to warn intruders off in real-time
The All-in-One camera has colourful images at night with White light supplement
Working with Hilook NVR(new firmware needed), you can simply control alarms with one tap on the easy-to-use mobile APP HiLookVision
IP67 Ingress Protection
One Tap to Alarm/Disarm with Mobile APP
Quick Specs: H.265+, 30m IR, 120dB WDR, IP67
Lens Options: 2.8mm Colour – White Features: 2 Way Audio + spotlight + blue and red deterrance light.
1 x 8 CH Hilook Hikvision PoE NVR
Code/SKU: HiLook NVR-108MH-C-8P
Quick Specs: 8ch PoE NVR, 80Mbps, 8 PnP Ports, 4K, VGA / HDMI, 1 HDD Bay
NO HARD DRIVE IS INCLUDED.
Add below if required.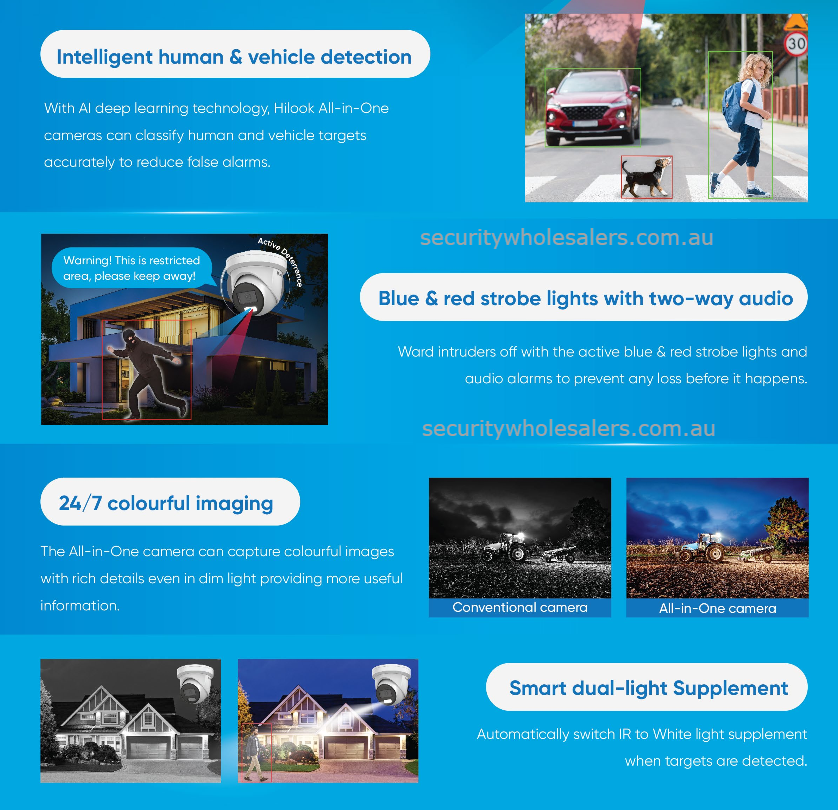 SAMPLE FOOTAGE (NOTE when the spotlight comes on, it will be colour image)
What is Acusense?

Installation in Sydney or Melbourne