Welcome To Dahua's TiOC Range

TiOC, also known as three-in-one camera, integrates 24/7 full-color monitoring, active deterrence and AI into one smart and innovative solution.
• Smart Illumination Mode (Default): Switch between IR Mode and white light when target is detected.
• IR Mode (Optional): Only the IR illuminator is ON. It is suitable for scenes where supplementary white light is not required, significantly reducing light pollution.
• White Light Mode (Optional): Only the white light is ON. It is suitable for scenes that require color video footage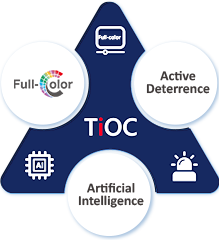 Smart Dual Illumination: Switch between IR mode and white light when target is detected.
You can opt to use IR mode only until a target is detected to switch on the white light for FULL COLOR footage. Or! Keep the white light on at all times for continuous full-color monitoring.

Active Deterrence
Red and Blue Light: Noticeable even in dense fog and heavy rain.
Enhanced Sound Alarm: Two-way talk function (IPC supported), Speaker volume up to 110dB and optional configuration – wailing siren, recorded voice and customizable voices for different scenarios.
Real-time Push Notification: Visual alarm verification anytime, anywhere and one-tap app arming and disarming.
Accurate Alarm
TiOC offers accurate alarm function by precisely targeting people and vehicles, while filtering out non-target objects such as animals, leaves and car headlights. While keeping false alarm rate under 2%, its powerful AI algorithms also delivers a quicker, more accurate and longer range motion detection. (In HDCVI system, all AI functions are realized by XVR).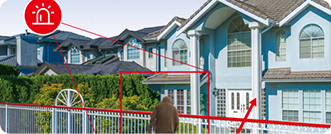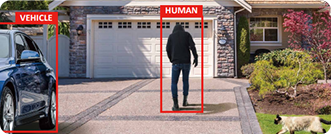 Add a Hard Drive
These Brackets may be useful, but not compulsory
Need Installation in Sydney or Melbourne?