TiOC, also known as three-in-one camera, integrates 24/7 full-color monitoring, active deterrence and AI into one smart and innovative solution.
• Smart Illumination Mode (Default): Switch between IR Mode and white light when target is detected.
• IR Mode (Optional): Only the IR illuminator is ON. It is suitable for scenes where supplementary white light is not required, significantly reducing light pollution.
• White Light Mode (Optional): Only the white light is ON. It is suitable for scenes that require color video footage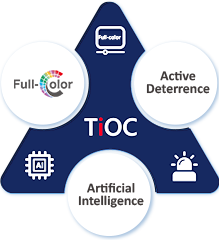 Three-in-One Camera (TiOC) integrates 24/7 full-colour, active deterrence and artificial intelligence into one smart and innovative solution, greatly saving time and financial costs. TiOC can accurately identify potential risks and effectively warn off intruders protecting life and property.
Product Features:
8 MP 1/2.8" CMOS image sensor, low luminance, and high definition image.
> Outputs max. 8 MP (3840×2160)@25/30 fps.
> H.265 codec, high compression rate, ultra-low bit rate.
> Built-in warm light and IR LED; the max.
> IR illumination distance is 30m and warm light distance is 30 m.
> ROI, SMART H.264+/H.265+, AI H.264/H.265, flexible coding, applicable to various bandwidth and storage environments.
> Rotation mode, WDR, 3D NR, HLC, BLC, digital watermarking, applicable to various monitoring scenes.
> Intelligent monitoring: Intrusion, tripwire (the two function support the classification and accurate detection of vehicle and human).
> Abnormality detection: Motion detection, privacy masking, scene network disconnection, IP conflict, illegal access, and voltage detection.
> Alarm: 1 in, 1 out; audio: 1 in, 1 out; supports max. 256 G Micro SD card; buit-in dual MICs; 1-ch speaker.
> 12 VDC/PoE power supply.
> IP67 protection.
> Sound and light alarm (red and blue lights).
> SMD 3.0.
> One press arming/disarming through alarm input.
DH-IPC-HDW3849H-AS-PV-S3_datasheet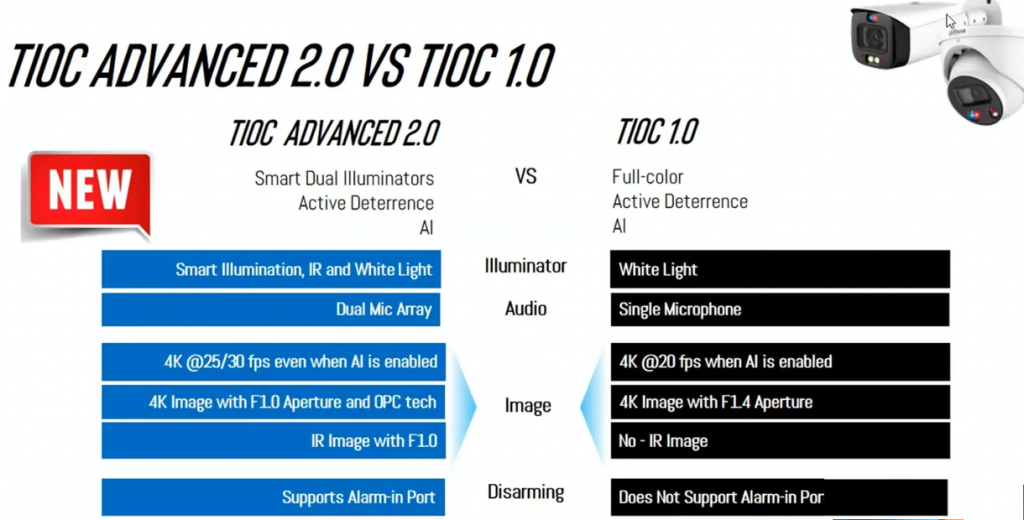 Active Deterrence
Red and Blue Light
• Noticeable even in dense fog and heavy rain.
• More eye-catching than white light.
Enhanced Sound Alarm
• Speaker volume up to 110dB.
• Two-way talk (IPC supported).
• Optional wailing siren, recorded voice and customizable voices for different scenarios.
Real-time Notification
• Real-time alarm push notification to mobile APP.
• Visual alarm verification anytime, anywhere.
• One-tap arming and disarming, easy to operate.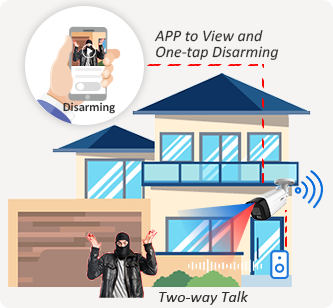 Accurate Alarm
TiOC offers accurate alarm function by precisely targeting people and vehicles, while filtering out non-target objects such as animals, leaves and car headlights. While keeping false alarm rate under 2%, its powerful AI algorithms also delivers a quicker, more accurate and longer range motion detection. (In HDCVI system, all AI functions are realized by XVR).