Launched by Dahua Technology, WizSense is a series of AI products and solutions that adopt independent AI chip and deep learning algorithm. It focuses on human and vehicle with high accuracy, enabling users to fast act on defined targets. Based on Dahua's advanced technologies, WizSense provides intelligent, simple and inclusive products and solutions.
Technical Camera Features:
· 6MP, 1/2.7"progressive scan CMOS, low illuminance, high image definition
· Outputs max. 6MP (3072 × 1728) @20 fps,and supports 4MP(2688 x 1520)@30fps
· H.265 codec (high efficiency encoding), high compression rate, low bit rate
· Built-in IR LED, max. IR distance: 50 m
· ROI, SMART H.264+/H.265+, flexible coding, applicable to various bandwidth and storage environments
· Handles well in varying light conditions:  Wide Dynamic Range (WDR), 3D DNR, HLC, BLC, digital watermarking, applicable to various monitoring scenes
· Intelligent detection: Tripwire, intrusion – important for perimeter protection.
· Abnormality detection: Motion detection, video tampering, defocus detection; scene changing, audio detection, no SD card, SD card full, SD card error, network disconnection, IP conflict, illegal access, voltage detection
· Supports max. 256 G Micro SD card, built-in Mic
· 12V DC/PoE power supply
· Ingress Protection Weather-Proof Rating: IP67 weather resistant protection
SMD 4.0 With upgraded AI capabilities, the SMD function filters out irrelevant objects in the scene. Equipped with a new deep learning algorithm, SMD 4.0 is optimized to filter out small and large animals in the scene to avoid triggering false alarms. Also, SMD 4.0 can detect the colour information of clothing and vehicle for data support of quick search after an event.
This camera has SMD4.0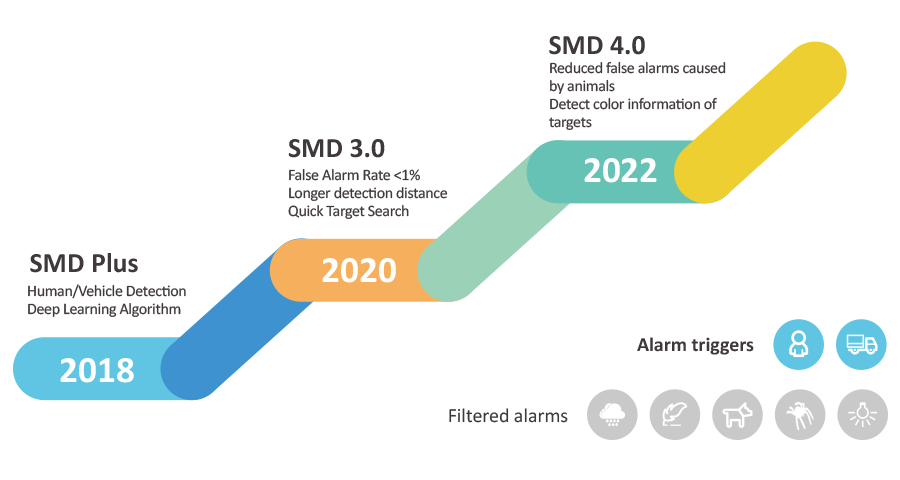 Add Hard Drive If the system is purchased with a hard drive, it will be pre-installed in the NVR.
Extra Accessories:
Cables:
DAY SAMPLE
NIGHT

How does SMD work? (this cam has SMD)